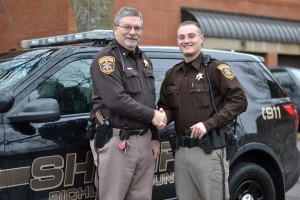 The Richland County Sheriff's Department has named their next K9 handler. The selection came through an internal promotion process where Deputy Mike Czys was awarded the position. A management panel that included the Sheriff, Chief Deputy, Lieutenant, and Sergeants made this decision.
Czys joined the Sheriff's Department as a Jailer/Dispatcher in 2012 after receiving a Bachelor's Degree in Criminal Justice from the University of Wisconsin Eau Claire and graduating from The Law Enforcement Academy at Chippewa Valley Technical College. In 2014 Czys was promoted to Road Patrol and has had a lifelong interest in becoming a K9 Handler. Czys stated that his interest in becoming a K9 handler stems from a passion to combat the growing drug problem in the area and a desire to utilize the K9 to practice a community based policing model.
Community Based Policing is a term that refers to a type of policing where law enforcement and the community work together toward common goals. The Sheriff's Department believes that public K9 demonstrations and appearances in area schools and businesses that show the K9's abilities is a way to strengthen the relationship between law enforcement and the community. The public also has an important role in the success of the fight against drugs: reporting suspicious activity or any other information to Richland County Crime Stoppers, properly disposing of unused prescription medications, and educating youth on the dangers of drugs are all great ways for law enforcement and the community to come together to fight the problem at hand
The drug problem in Richland County and the surrounding areas is a growing concern, and the Sheriff's Department believes that a K9 that is specially trained in the detection of narcotics is crucial to fight the problem. In recent years, there has been an increase in the availability and abuse of more illicit drugs including heroin, methamphetamine, and prescription pills. These substances coupled with marijuana, cocaine, and other drugs are becoming more potent and unpredictable as they are brought in from larger cities onto Richland County's streets and highways, and eventually into our homes. Drugs are affecting the community by causing overdose deaths, and can also be linked to thefts, burglaries, and other property crimes.
The K9, coupled with Czys and other members of the Richland County Sheriff's Department, Richland Center Police Department, and Richland-Iowa-Grant Drug Task Force, is responsible for taking these dangerous drugs off the streets and keeping the public safe. The K9 will be utilized along side these agencies during traffic stops and search warrants, as well as school searches in an effort to address the problem. These agencies will use this proactive approach to not only target drug dealers, but drug users as well.
For the past seven years, K9 Titan along with handler Sgt. Dane Kanable have been responsible for this task and have made many important contributions to the success that law enforcement has had. The Sheriff's Department along with Sgt. Kanable, want to ensure that K9 Titan receives a proper retirement. This has sparked the transition to a new K9 and new handler Deputy Czys. The Sheriff's Department will retire K9 Titan at some point in 2016 in order to reward him for his years of service to this community.
Czys will attend a six -week training course at Vohne Liche Kennels in Denver, Indiana. Vohne Liche is a state of the art training facility that has trained over 5,000 service dogs for use in the NSA, Pentagon Police, U.S. State Department, U.S Army, as well as many other Law Enforcement agencies around the world. The Richland County Sheriff's Department will use private donations and will purchase a multi-purpose K9 that is trained in narcotics detection, bite work, building and area searches as well as suspect and missing person tracking. The training is set to begin in early April with hopes that the new K9 team will be ready for duty in Richland County in late May.
The Richland County Sheriff's Department and Deputy Czys are very excited for this opportunity and feel that the community will be very pleased with future results stemming from this acquisition.