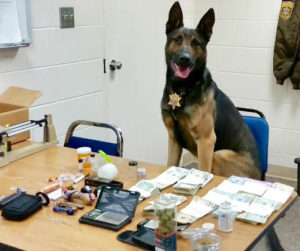 Deputies responded to a two vehicle crash on US Hwy 14 near Fairview Rd just after 4:30pm on Friday evening. Witnesses on scene informed law enforcement that the driver of one vehicle involved in the crash had walked out into a nearby cornfield on two separate occasions and was acting suspiciously. K9 Rambo was deployed for a search of the nearby area and located two containers filled with a substantial amount of marijuana. K9 Rambo also alerted to the odor of narcotics inside the suspect's vehicle. Deputies searched the vehicle and numerous items of drug paraphernalia, prescription pills, and more substances containing THC were discovered.   Also found in the vehicle was approximately $9,300.00 in cash linked to the distribution of illegal narcotics. The suspect, Raymond J. Otigham was arrested and transported to the Richland County Jail. This case has been referred to the Richland County District Attorney for formal charges. Any information regarding suspicious activity or crimes of any kind can be reported to Richland County Crime Stoppers at 608-647-CLUE (2583).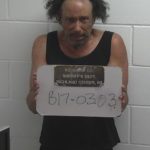 WHEN: 06-23-17          TIME of Incident:  4:30 pm
WHO Involved:  Raymond J. Otigham  DOB 07-23-1973, Madison WI
Agencies Involved:
 Richland County Sheriff's Dept.
Richland-Iowa-Grant Drug Task Force
Richland County District Attorney's Office
WHERE Incident Happened: US Hwy 14 & Fairview Rd, Buena Vista Township
ARREST or CHARGES:  961.41(1m)(h)- Possession of THC with Intent to Deliver, 961.41(3g)(am)- Possession of Schedule II Narcotic, 961.573(1)-Possession of Drug Paraphernalia, 946.41(2m)(a)- Resisting or Obstructing an Officer.