Lt. Billy Jones of the Richland Center Police Department reports that a Richland Center man was arrested over the weekend on drug related charges.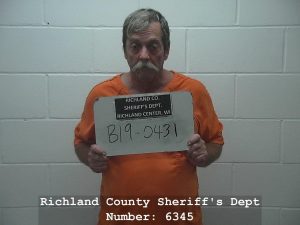 Stuart Boe, 63, was arrested and tentatively charged with Possession of Marijuana with Intent to Deliver and Possession of Drug Paraphernalia.
The investigation began when Boe was stopped for a driver's license violation and the assistance of a K9 unit was requested.  K9 Rambo, of the Richland County Sheriff's Department, was deployed and indicated the presence of controlled substances to be in Boe's vehicle.  During the subsequent search of Boe's vehicle, numerous baggies of suspected marijuana were located along with a couple items of suspected drug paraphernalia.  In addition, $1280 of US currency was located on Boe's person during the arrest.
In addition to the Sheriff's Department, the Police Department was assisted on-scene by members of the Richland-Iowa-Grant Drug Task Force.   All charges have been forwarded to the Richland County District Attorney's Office for prosecution.
Lt. Jones commented that this investigation was the result of the thoroughness of the Officer who made the initial traffic stop and the assistance of K9 Rambo.  Lt. Jones added that the Officer's decision to request the K9 unit was, in part, due to tips that law enforcement has received concerning Boe's suspected involvement in illegal drug activity.  Lt. Jones stated that this is another example of how citizens' information can assist law enforcement in achieving the goal of reducing the amount of drugs and crime in our community.
Any citizen who has information concerning any illegal activity is encouraged to call the Richland Center Police Department at 608-647-2103 or the Richland County Sheriff's Department at 608-647-2016.  Callers who wish to remain anonymous can call Richland Area Crime Stoppers at 647-CLUE (2583) and may be eligible for a cash reward.
###