RICHLAND CENTER POLICE DEPARTMENT
Press Release
The Richland Center Police Department reports that two subjects were taken into custody on methamphetamine charges on Sunday, November 11th.
Chief of Police Lucas Clements states that at approximately 9:00 p.m. on November 11th Officers with the Richland Center Police Department conducted a traffic stop on a vehicle within the City of Richland Center for an equipment violation.
Upon contact with occupants of the vehicle, Officers identified a passenger as Joshua D. Clarke, 31, of Richland Center. Clarke was placed under arrest for an active felony warrant through the Department of Corrections. A search of Clarke, incident to his arrest, revealed several baggies of methamphetamine on his person, individually packaged for sale.
Through subsequent investigation, more methamphetamine and drug paraphernalia were located within the vehicle.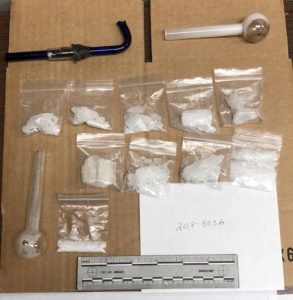 In addition to being arrested on the Department of Corrections warrant, Clarke was also arrested for Possession of Methamphetamine with intent to deliver, Possession of Drug Paraphernalia, Resisting/Obstructing an Officer, and nine counts of Felony Bail Jumping.
The driver of the vehicle, Taylor N. Stolpa, 19, of La Crosse was arrested for Operating a Motor Vehicle with a Restricted Controlled Substance, Possession of Drug Paraphernalia, and one count of Misdemeanor Bail Jumping.
Richland Center Police Department Officers were assisted on scene by the Richland County Sheriff's Department.
Clarke and Stolpa were transported to the Richland County jail, with charges for both being forwarded to Richland County District Attorney Jennifer Harper for prosecution.
Chief Clements states "I would like to point out the diligence and thoroughness of the work that Officers displayed throughout this investigation, which lead to the largest methamphetamine seizure in Richland County to date."