ALWAYS AVAILABLE… EASY TO USE… SAFE… EVERY DAY.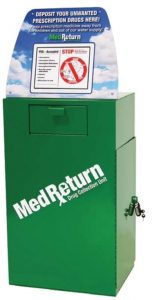 MedReturn is committed to providing a safe, simple, secure and environmentally friendly way to help law enforcement agencies and communities collect unwanted or expired household medication, including prescriptions, over-the-counter drugs and unused pharmaceuticals in locations throughout the U.S.A.
The Richland County Sheriff's Department has MedReturn boxes located on the 2nd floor of the Courthouse in the Sheriff's Department lobby.
We accept: Prescription patches, medications and ointments; OTC meds, vitamins & supplements, samples, pet meds, liquid meds in leakproof containers, homeopathic remedies, suppositories.
We do not accept: Needles or sharps, syringes with needles, thermometers, IV bags, bloody or infectious waste, personal care products, empty containers, hydrogen peroxide, aerosol cans, inhalers, medication from businesses.